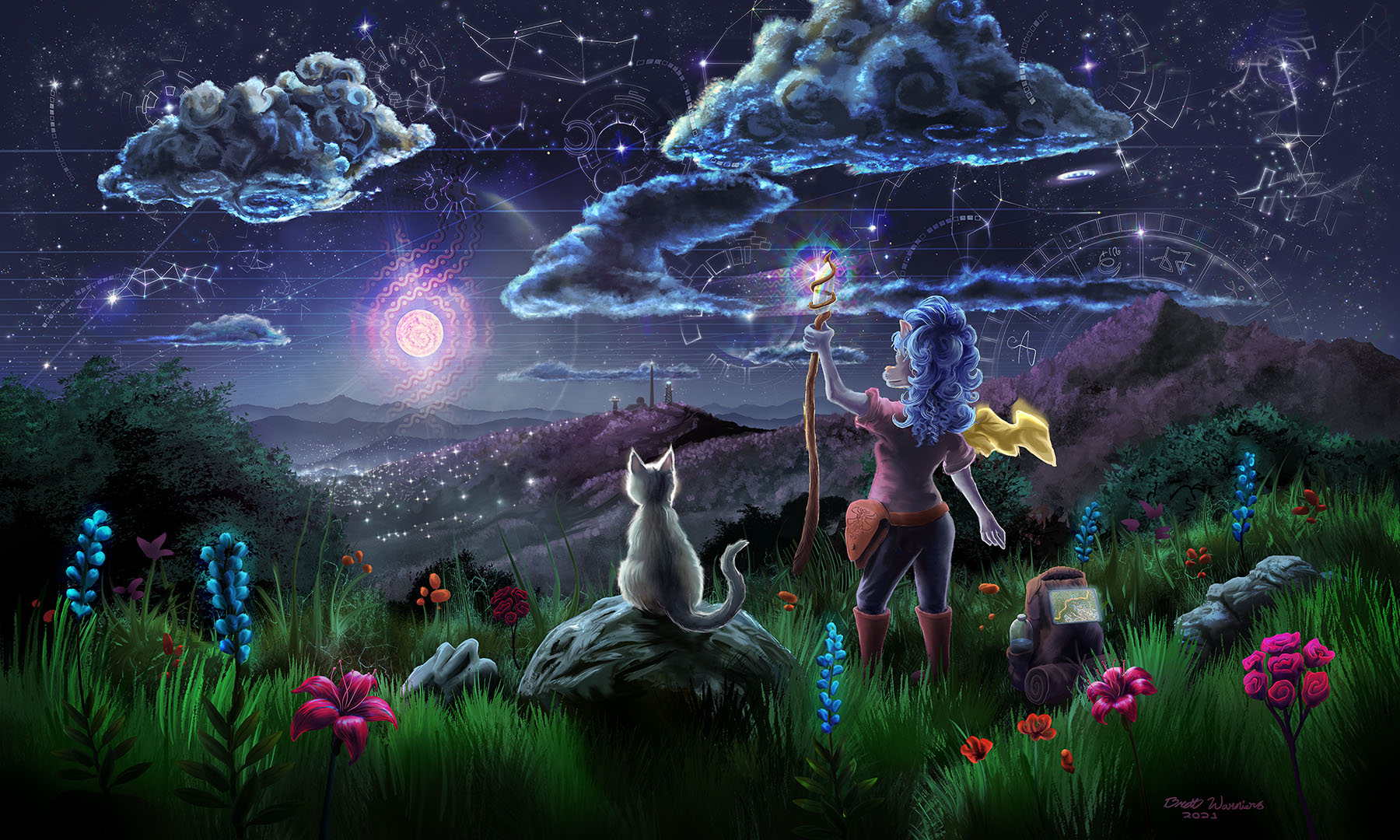 Strawberry Moon, 2021
Mystical full moon adventures with new friends on the shortest night of the year. The valley below twinkles with the stars, as a soft warm breeze passes over the mountainside. In awe and wonder, Ivestor and her new feline friend Starbean gaze at this magnificient alignment of the local cosmos, absorbing the brilliant pink lunar aura into their souls and their magical tools. No witness goes uninspired for this short and stunning event.

On Earth, the Strawberry Moon is the last full moon of spring or the first full moon of summer, often occurring near the time of the summer solstice. This alignment of the cosmos creates a short night with a spectacular lunar presence, illuminating the horizon with a rich magenta and orange glow. My guess is that this is caused by the temperatures and combinations of gasses in the atmosphere during the summertime, as it is an intense shade of pink when it first appears.

The intention for this 40" x 24" digital painting is to inspire fascination for the cosmic realms. At night, it becomes easy to understand that we are but a distant, tiny component of an unimaginably vast universe. While there are many elements of this painting familiar to Earth, many other parts are ambiguous, to leave the viewer wondering if these are extra-terrestrial highlands, or an interpretation of the Blue Ridge Mountains where the idea originated.

There is a limited edition of 13 canvas prints made of this artwork at its full size; 40" by 24" inches, mounted on a deep canvas bringing the full moon power off of the wall and into the room with you. Canvas prints take a substantial amount of effort and resources, so I limit the number produced to make each one exceptionally special and unique.
Software used: Adobe Photoshop, Adobe Illustrator, animated in After Effects.
NFT version: QS004 Strawberry Moonshine
Strawberry Moon Mini-Documentary:
In this 15 minute episode, I tell you of the adventure that inspired this artwork, the process of creating it, the meanings behind the actual imagery, and so much more.
Details: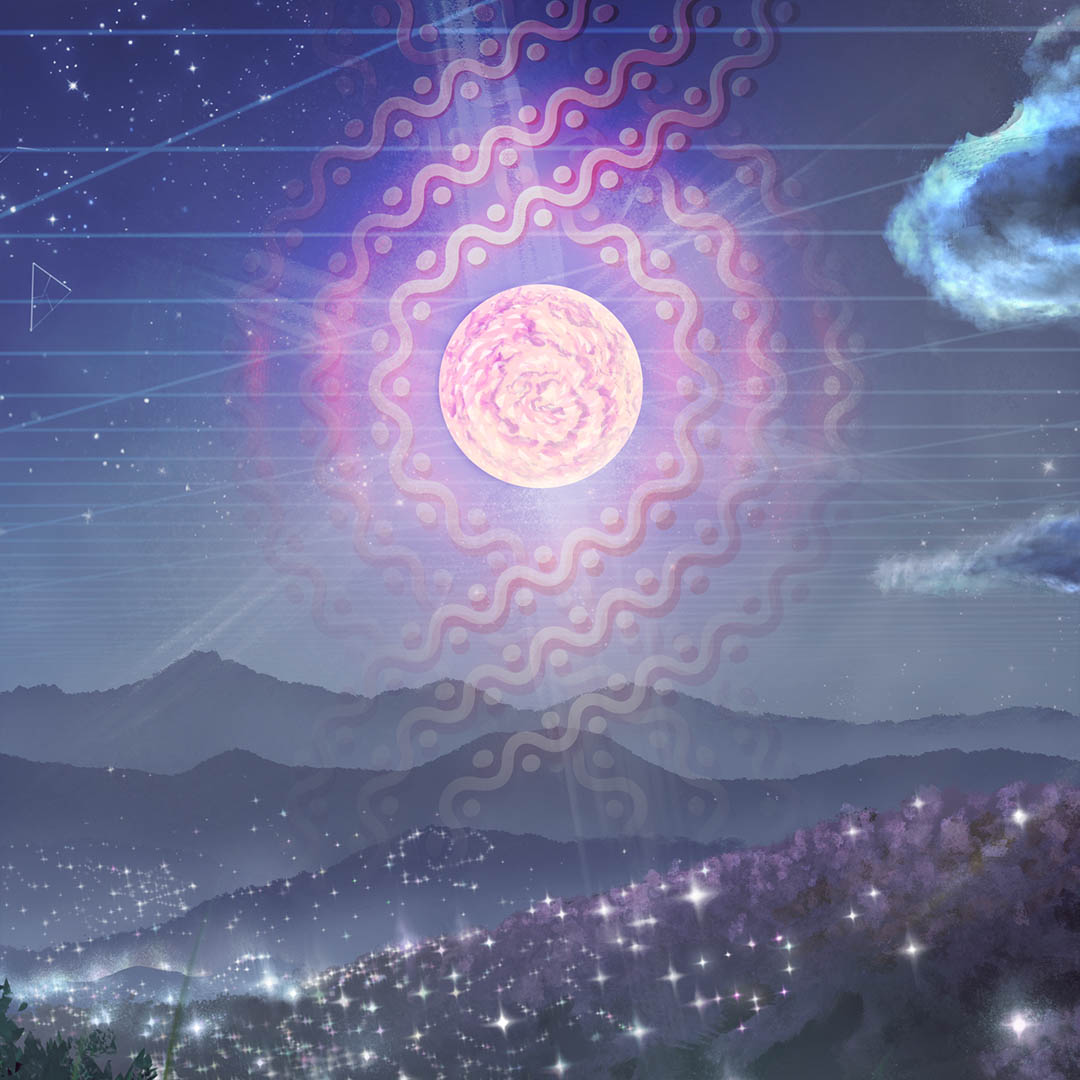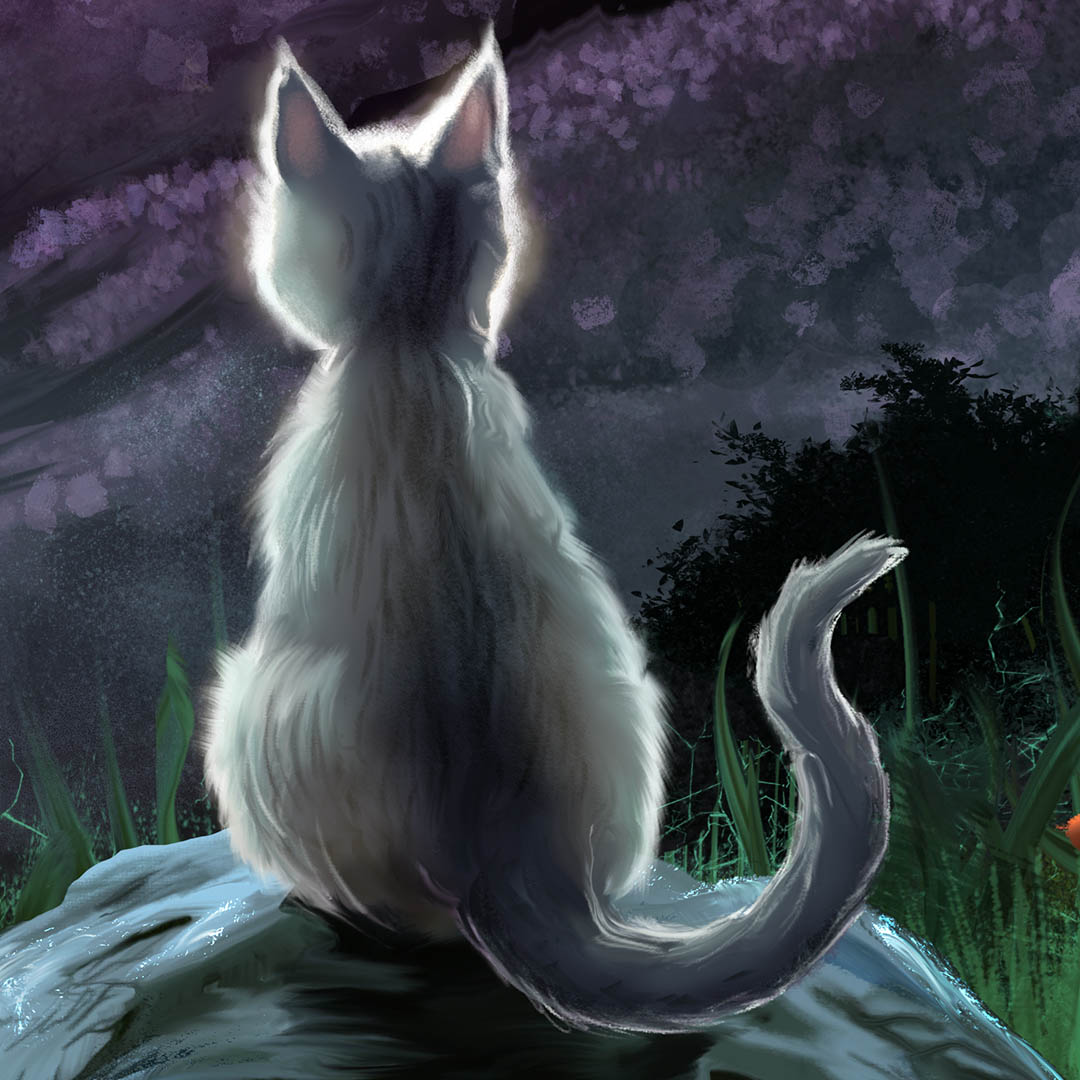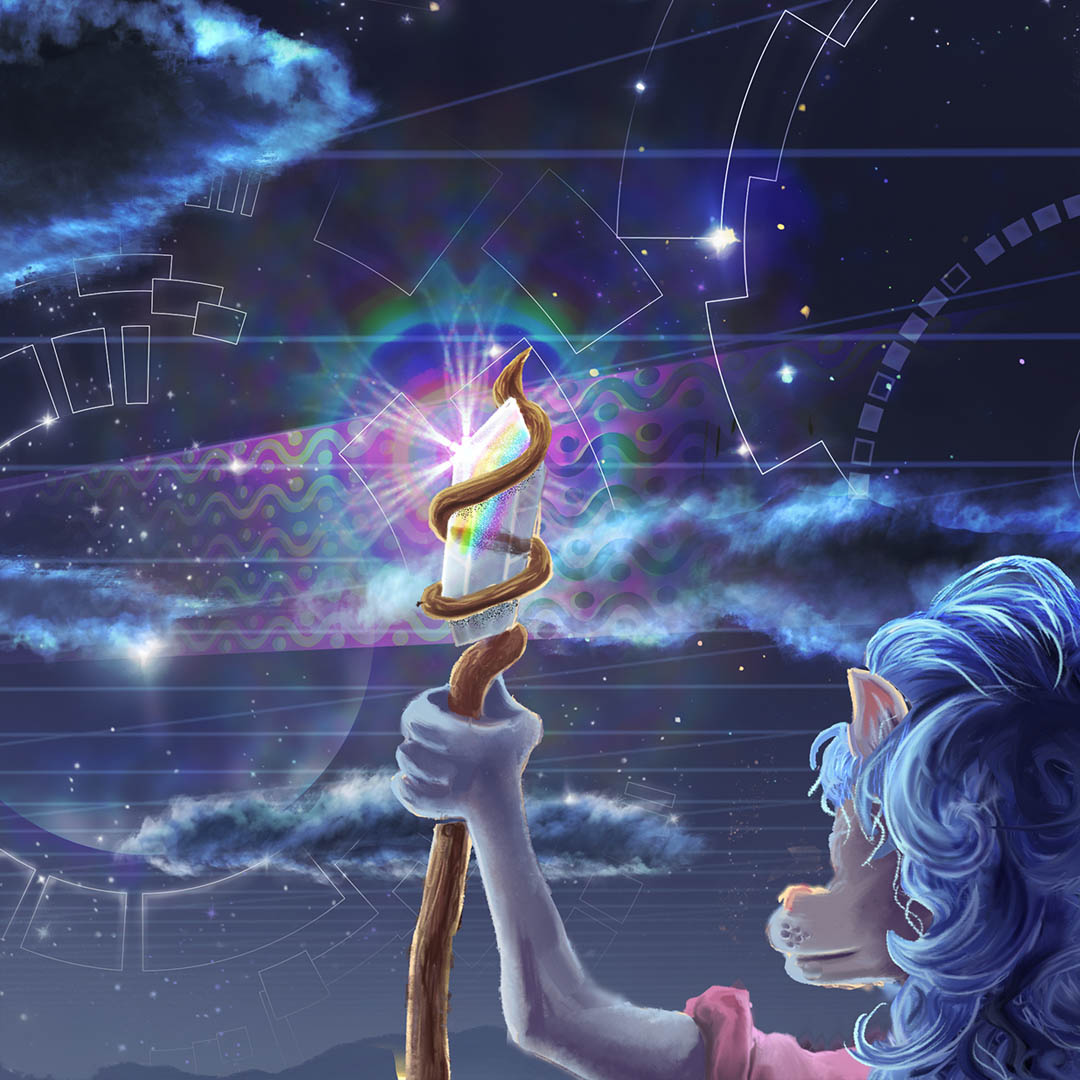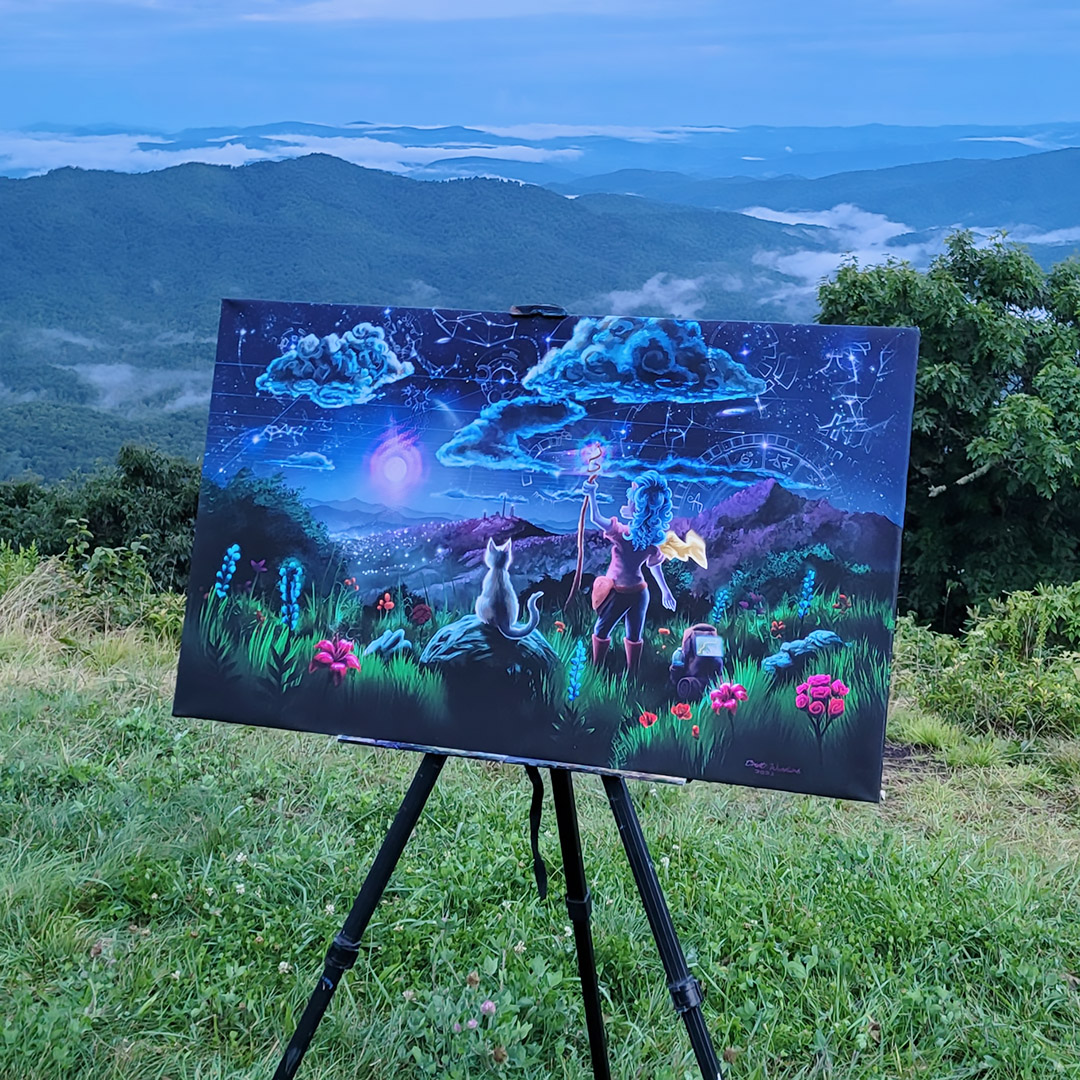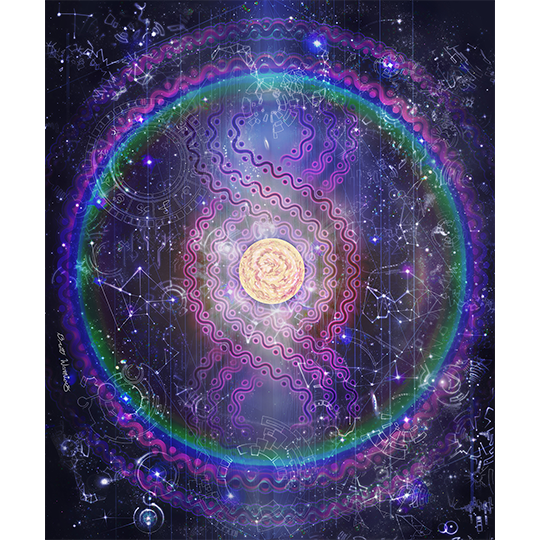 Canvas print in it's natural habitat, and the Exclusive Strawberry Moon Blanket it comes wrapped in